About Pacific Link College
Pacific Link College (PLC) has been innovating the education landscape in Canada by building programs and partnerships that lead students to the careers of which they dream. Our success in post secondary education has made us one of the fastest-growing institutions in Canada. Our specialty is international students, for whom we have built student support from recruiting to academics to co-op and post-graduate care.
Mission, Philosophy and Values
PLC has always emphasized providing quality, innovative, practical education. These factors are key in helping students succeed in their goals: most notably in getting employment. PLC has done all this via a strong focus on student services and assistance, as well as learning strategies that combine teaching by industry leaders with guest lectures and industry visits. Co-op placement in the industry also plays a key role in student success; hence PLC has a dedicated co-op department to guarantee placement. Starting with the launch of its career programs, PLC also emphasized the importance of diversity in students, faculty and staff.
Established in 2011, PLC began by focusing on language instruction, which to this day is offered to international students. After opening its first career-centred campus in Guildford, Surrey, British Columbia, PLC quickly opened its second campus in neighbouring Burnaby as we saw the rapid expansion of the college recruiting and support teams across the globe.
PLC works with multiple academic partners in Canada and worldwide. In Canada, PLC works with language schools and cultural institutions, as well as post secondary institutions. We were the first to have a limited-term partnership with the Centre for Digital Media in Vancouver in which PLC students got to experience prototyping digital strategies as part of a creative exchange. Current partners include Corpus Christi College and Trinity Western University. PLC also has multiple institutional partners across the globe, as well as offices in key strategic regions.
PLC's strategic initiatives are to grow its brand both nationally and globally while attracting a truly diverse body of students that reflect the future of Canada.
In order to carry out these initiatives, we are increasing our presence in Canada by adding a new campus in Montreal, Quebec. This move allows for an increased presence for PLC into central Canada, and also connects Anglophone and Francophone regions, thereby reflecting the unique cultural fabric of Canada.
PLC will also be growing its programs to accommodate human resource demands in Canada, including those in early childhood education, trades, accounting and information technology.
Our long-term vision is to develop a full independent campus that can service up to 5,000 students by 2025.
Globally our plan is to grow our strategic presence to areas such as central Africa and eastern Europe, while also growing said presence in the regions in which we are established. This growth includes partnerships with governments and ministries of multiple countries including Morocco and the UAE.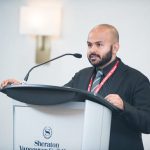 I am very proud to be program head at Pacific Link College.
It takes a lot to be cited as the best career training school and college in Surrey: unrivaled industry affiliations and dedicated staff. We've been perfecting our approach to education since 2012 and are proud to be one of the elite group of institutions granted designated status by the Private Training Institutions Branch of the Ministry of Advanced Education.
PLC is a diverse community in beautiful BC, Canada. It is big enough to bring students from all over the world, but small enough for said students to build lifelong friendships.
We are proud of what we do, and hope you will like it too. Please explore PLC's website to see what we have to offer. Welcome to Pacific Link College.
Isaac K. Oommen, Program Head